History of the P-51
In 1938 the British government investigated the possibility of buying fighter aircraft in the USA. The Harvard trainer was bought from North American Aviation. NAA were asked if they would consider to build the Curtiss P-40 for Britain. Instead North American Aviation designed the totally new NA-73 aircraft which later became known as the P-51 'Mustang'.
Many thousands of P-51's were built. A few years later the 1944-45 production series differed greatly from the initial P-51A. The Allison V-1710 engine was replaced by a Rolls-Royce 60-series 'Merlin'. The appearance changed drastically to the well known silhouette of today. The change to the Merlin engine made the Mustang the most versatile fighter performing superbly at all altitudes. After the end of the war Mustangs were used by a wide variety of air forces and later by private owners as air racers and personal toys. Nowadays the remaining Mustangs are treasured around the world by museums and operators of historic aircraft. More information on the history of the Mustang can be found on Wikipedia.
Trusty Rusty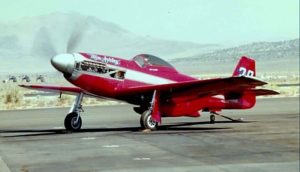 Trusty Rusty started it's operational life in 1945 in the United States Air force. It was used by various squadrons on the West Coast until 1953. It was then transfered to the Air National Guard.
In 1956 it was sold to the first of a list of private owners who used it until it re-entered militairy service with the Air Force of El Salvador. In the early 1970's it returned to the United States to again go into civilian hands. A long list of private owners followed. In private hands she was best known as air racer "Miss Ashley". In 1994 Jaap van Mesdag purchased "Miss Ashley" for the Early Birds collection and had her shipped to The Netherlands.
Restoration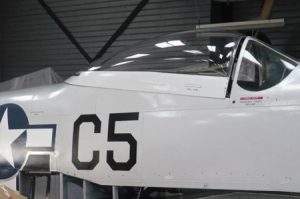 The volunteers of the Early Birds commenced a compete restoration. Over the span of twelve years every component was cleaned, carefully inspected and either reused, repaired as necessary or replaced. At the end of the long restoration an aircraft was revealed that looks and flies like a brand new Mustang.
Bob Winks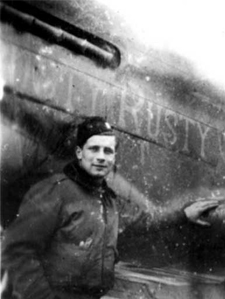 Trusty Rusty is painted as the personal aircraft of Bob Winks. Bob Winks was an American ace who flew for 364th squadron of the 357th Fighter Group in 1944 and 1945. His aircraft was chosen as an example as he flew a lot of wartime missions over occupied Holland.